Our company consists of Mortgage Specialists and Alberta Mortgage Brokers who have many years of experience in the mortgage industry. We pride ourselves in creating long lasting relationships,  as our REPUTATION is built on perseverance and fast, friendly service. We will provide a variety of scenarios to be suited to your needs and always give you the true facts.
We specialize in tailoring the mortgage rates to fit you, not you to the mortgage.
We understand the importance of time sensitive financing and provide in the "loop" service. Making sure you are in control of your deal. We are determined to get the best for you!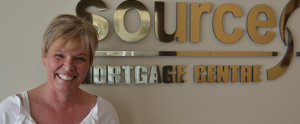 Lori Donovan – Brokerage Owner; BSc PEng – University of Alberta
For many years Lori was a stay at home mom – with the crowing achievement of raising two beautiful daughters.
After her daughters were more independent, Lori began a successful teaching career in mathematics at Mt. Royal College. After three years of math instruction, Lori moved with her husband to Houston, Texas. It was then, in 2005, that Lori first became licensed as a Mortgage Agent in the State of Texas and launched her career in the mortgage industry. After moving back to Canada in 2006, Lori worked for a mortgage broker based in Calgary until 2011.
Lori Donovan joined Source Mortgage Centre in October 2011.  She prides herself in providing a very focused personal service for her growing client list. Over the past 6 years she has distinguished herself through developing good business relationships with the lender community and has the reputation of matching the client to the most appropriate lender.
Her client referral list is strong and growing – this speaks to Lori's customer focus. She is not happy until she has the "right mortgage" for her client.
Jodi Schulz
Licensed Mortgage Agent
BSc MBT
Jodi joined source in February 2014 as a licensed mortgage agent. She works diligently to ensure her clients receive the best mortgage product for their needs and understand the details of the process. Jodi comes to us with over 7 years experience in marketing, sales and sales management experience from both the pharmaceutical and mortgage industry. She holds both a bachelors and masters degree in science from McGill University and the University of Calgary. When Jodi isn't working she enjoys time with her two young sons and her husband.